Group Therapy Works!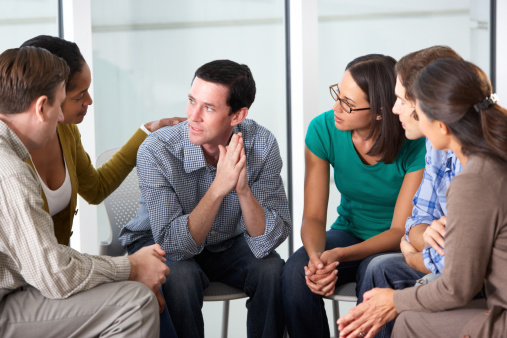 Group therapy helps individuals learn about themselves and gain encouragement, perspectives, and ideas from others facing similar issues. Eyerly Ball offers a variety of specialized groups to meet the needs of our clients. Please refer to the information below to see if Group Therapy is right for you!
Anger Management Group
This group is designed to help adults who have struggled with anger to better identify the triggers and warning signs for their anger episodes. We then focus on identifying alternate ways to express this emotion to avoid the many negative consequences often associated with anger.
The Anger Management group is facilitated by Joe Nemmers, LISW and Monica Van Horn, LMSW and meets on Thursdays from 5:00-6:00 PM at the Cropp Clinic.
Co-Occurring Group
This 16 week group is designed for individuals with both substance and mental health concerns in various stages of recovery. The group is a confidential environment to seek support for co-occurring disorders.
The Co-Occurring Group is facilitated by Sarah Cavan, LMSW and meets on Tuesdays from 5:30-7:00 PM at the Cropp Clinic.
For more information or to make a referral for groups at the Cropp Clinic in Des Moines, please call 515.243.5181.
---
Eyerly Ball Clinic in Ames groups are typically held Tuesday afternoons.  Please contact 515-598-3300 for exact times for upcoming groups.