October 1st is International Day of Older Persons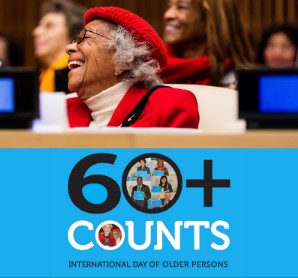 Ten thousand Americans turn 65 years old each day according to AARP. This has far-reaching impacts on our working population, our providers that assist Seniors, and on the seniors themselves.
The theme of the International Day of Older Persons 2017 is "Stepping into the Future:
Tapping the Talents, Contributions and Participation of Older Persons in Society." This year's day is about enabling and expanding the contributions of older people in their families, communities and societies at large. It focuses on the pathways that support full and effective participation in old age, in accordance with old persons' basic rights, needs and preferences.
As we take time to honor America's Seniors - let us look at how Eyerly Ball serves this population:
All of the community-based programs of Eyerly Ball serve the senior population.

The Senior Outreach Counseling program of Eyerly Ball CMHS focuses solely on the senior population in Polk County. The program provides:

Provides a mental health assessment and ongoing mental health therapy in the safety of their home for Polk County residents ages 60 and over.

Provides mental health education and outreach to 16 Polk County Senior Meal Sites each month.

Provides presentations and trainings to residents and staff of senior living sites throughout Polk County and Central Iowa.

Provides consultation to facilities and providers regarding senior mental health issues in the area.
Senior Outreach Counseling routinely touches the lives of approximately 1,000 seniors each month. As Bette Davis once said, "Growing Old Ain't For Wimps". Eyerly Ball CMHS and Senior Outreach Counseling specifically attempt to not only make easier, but also to enrich, the quality of lives of Seniors in our area.
To be eligible for SOC services, the following criteria must be met:
Age 60 or older

Mental health diagnosis

Demonstrate a need to receive in-home services

Resident of Polk County or have Medicaid Elderly Waiver
For more information, contact the SOC team at 515-243-5181.